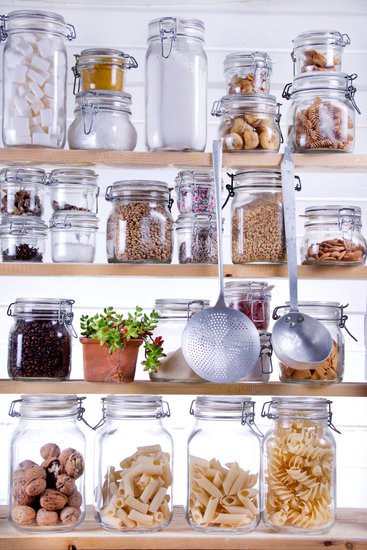 When it comes to decluttering around the home, the pantry needs lots of attention because it's so easy to have neglected pantries even if you have a great looking kitchen. Plus the wellness benefits of a decluttered & organised pantry should not be underestimated.
And unlike kitchens, you can sometimes close the pantry door & ignore what's going on in there, though the negative impact of a cluttered pantry shows in how you spend time cooking & making food choices.
I know when my pantry was cluttered that it took me much longer to cook because I was searching for ingredients & I was always eating whatever I saw first rather than making healthier decisions.
Below I'll share how I decluttered my pantry & work at keeping it this way.
But firstly, a quick recap on how to declutter.

---
How to declutter.
Decluttering as you've heard me mention before is all about deciding what to keep, throw away or donate. It sounds like such a simple process, however, many get overwhelmed when having to make such decisions.
My best advice is to create 3 piles (you can use recycled plastic bags or boxes) & label them – keep, rubbish & donate. Doing this will streamline the decluttering process & help you understand what kinds of things you use & what you don't use (an important part of living organised when it comes to shopping habits too).
Keep – items that you use often or will have an immediate use for
Rubbish – items that are broken or in poor condition
Donate – items you do not use, in good to new condition
Still stuck?
If you find you're still stuck when it comes to placing items in the keep or donate piles because you're worried you may need them at some stage look at it this way:
If you haven't used a particular item in 6 months, have no immediate plans to & can afford a new one if a use becomes apparent in the future, then it may be best to decide to donate it.
All other items that you do use, especially the daily items, should be easily accessible.
---
Benchtops & shelves.
If you have a butler's pantry or one with benchtops where you can prepare food in, you really need to treat them like you do with the kitchen benchtops.
The shelves in your pantry need to save you time when looking for food to eat or ingredients to cook with & this means having everything easily accessible.
For each shelf, sort each item on them using the decluttering system.
Once you've finished decluttering, give the shelves a thorough clean.
Re-organise your shelves into both functional & purposeful spaces for all members of your household.

You can sort by type of food, e.g. snacks, sweets, sauces, baking etc.
You can sort by packaging type, e.g. cans, bags, boxes etc.
You can sort by a combination of both
---
Floors.
Floors can get cluttered too, especially in corners where you may store things piled up until you're "ready" to deal with them.
Declutter the floor as per the decluttering system.
Once you've finished decluttering, give the floor a thorough clean.
Re-organise the floors so that only must-have items remain
If you need to store an item on the floor, first see if you can find another home for it as this will make cleaning the floors a lot easier.
---
Maintenance.
Maintaining an organised pantry by dedicating time to it each week & placing things back where they belong is such a time saver. It can also be a money saver because cooking & grocery shopping will become a lot easier as you can see all the items you have stored in your pantry.
---
What next?
Once you've decluttered your pantry & understand how to maintain a clutter-free space you can:
Invest in durable & functional storage systems
Move on to other areas within your home

Bathrooms
Bedrooms
Office/Study
Laundry
Loungerooms
Playrooms
---