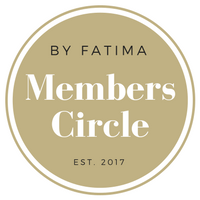 What's the By Fatima Members Circle?
The Members Circle is the place to create an organised lifestyle. A lifestyle where you can live amongst visual bliss & be as productive as possible both around the home & at work in'sha'Allah.
You may have tried getting organised before & have either found yourself stuck back in your old ways or with no clear idea on how to maintain the organisation systems you started.
You may have returned to some kind of work & are trying to balance home & work life.
And if either of these is the case, this could be what you need.
Consider the Members Circle as your trusted & loyal online space, a community of sisters where you can learn & implement new organisational skills as well as meet other organisers, take part in monthly challenges, get access to online courses & learn the daily how-to's that keep you on top of it all in'sha'Allah.
---
How does the Members Circle Work?
The content found in the Members Circle consists of written notes & videos (still pending) as well as complimentary workbooks, guides & planners – all helpful in getting you organised without taking too much of your precious time.
The amount of content within this platform aims to ensure all potential questions are answered & a wide variety of topics are discussed. And members are also encouraged to ask any questions & interact where possible.
---
Who Should Join the Members Circle?
The Members Circle is created with busy, working, mothers in mind, however, any Muslimah who is wanting to get organised & increase their productivity will find it worthwhile in'sha'Allah.
Also, those who have an enthusiastic attitude & are open to learning new ideas & skills will gain maximum benefit from this space.
---
What's the Cost to Join?
The Starter membership gives you access to modules 1 to 5 (refer to list) to help you begin to get organised & is FREE.
It helps with getting you into the right mindset needed to become organised without veering off track, which can commonly occur. At this stage, you'll also know whether you're ready to step up to the Organiser membership, which isn't free, & begin to make massive organising changes in your life.
The Organiser membership gives you access to ALL content & costs $17 per month or $147US per year (save 27%).
You'll get access to all modules & the how-to's of living an organised lifestyle, as well as monthly challenges, online course releases, printable guides & workbooks & By Fatima branded printable planners, a private Facebook group, plus you'll be the first to know about other exclusive offers & events.
To read full terms & conditions please click here > Members Circle T&C's
---
---
Already a member?
---