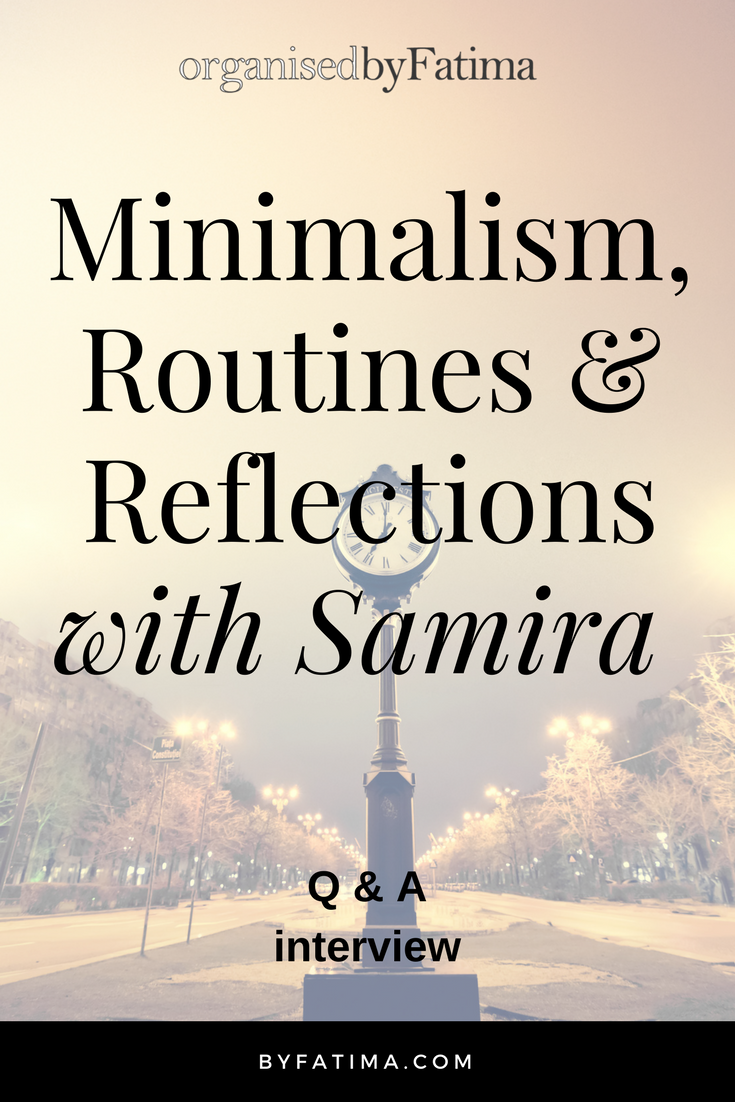 On my journey to living more organised & striving for minimalism, it hasn't always been easy to find others who see the importance of it as I do. Alhamdulillah though as I meet more & more sisters IRL or via social media, I've started to find these like-minded people & sister Samira is one of them as you'll read in our Q&A.
---
Disclaimer: this article contains affiliate links. Prices reflective of at the time of publishing.

---
Q.
Assalamu Alaikum, thanks so much sister for taking part in this interview series. Can you share with my audience a quick biography to get to know you better (if they don't already)?
A.
Asalaamu alaikum warahmatullahi wabarakaatu, thank you for having me. I am Samira, a former teacher turned blogger & founder of The Muslimah Guide. I am a mother of two little munchkins whom I homeschool.
---
Q.
You're a big advocate for simple living (which I love because I'm striving for minimalism myself) but why is that?
A.
My minimalism journey started way back in my early 20s when I travelled & lived in Yemen for a year & a half but it wasn't until I had kids when I realized I really had to simplify my life even further. There was always a choice between doing something for myself, doing something with the kids or doing the never-ending household chores.
So I figured, spending time with the kids & having time for myself to chase my own dreams was more important than the household chores. Over the years we downsized, decluttered & streamlined our lives so we can continue to only focus on what's important to us as a family.
---
Q.
Now, mashaAllah not only do you have your own blog, you also homeschool your children & are a homemaker. So I have to ask, what does a typical day look like for you?
A.
I am usually up for fajr & my day starts. I like to spend the first hour following the Sunnah of the prophet by praying Fajr & staying at the same place until the sunrise doing my morning athkaar & reciting the Quran.
After that, I spend 30 minutes writing for the blog & creating content. Once that's done, I usually walk around the house & prepare breakfast for the family. I have a strict rule in the mornings & that is no phone until after 10 am. That's because the kids wake up around 8:30 am & we start our homeschool. By not having my phone I can give my undivided attention to them at their most productive time.
By 10:30 am we are usually ready to go for a morning walk sometimes to the park. After our walk, I cook lunch, & once we are done the kids go to their room & have some quiet time activity.
I usually get back to work on the blog during this time, & most of the time I can get at least 1- 2 hours of work done before the kids are done with their quiet time activities.
My day is usually done by this time, I know I won't get any work done after this so we usually spend the afternoons either painting, colouring, or crafting. We end it off with some reading & having our afternoon tea together.
---
Q.
Why do you think having a morning routine is so important?
A.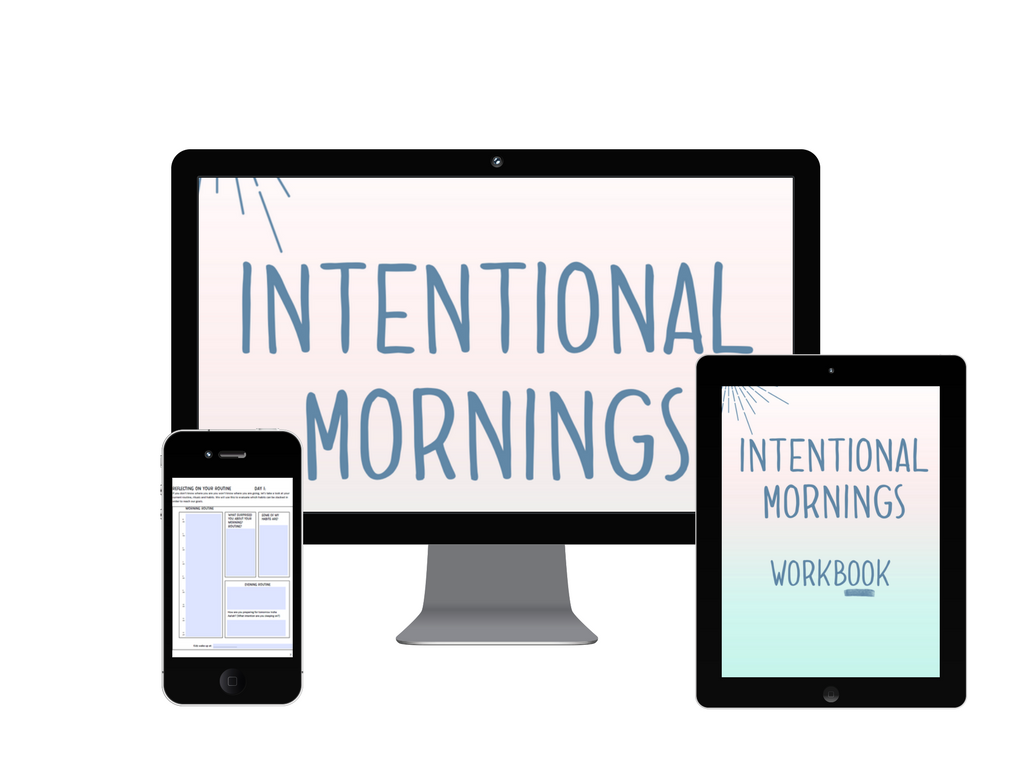 The Prophet (peace and blessings be upon him) said: "O Allah, bless my nation in their early mornings (i.e., what they do early in the morning)." (Hasan) He said: "When he sent out a raiding party or an army, he would send them at the beginning of the day." He said: (1) "Sakhr was a man engaged in trade, & he used to send his goods out at the beginning of the day, & his wealth grew and increased." (source) 
The morning hours are a blessed time, research has backed this up as well. It is our most productive time of the day.
I wrote Intentional Mornings because I believe as mothers we can get so much more done for ourselves at this time due to the fact that the morning holds the hours when there are no distractions & fewer temptations to steer us off course.
You can read more about the importance of a morning routine here.
---
Q.
Adopting new habits can sometimes take time, are there any that have changed your life or you'd like to introduce into your lifestyle?
A.
One habit that I think as Muslims we should be aware of is that we can turn any habit into worship. For example, you can eat because you are hungry or you can eat because you have the intention to fulfil an act of worship & you need energy.
So the difference is that one is a habit & the other is worship. Just understanding this concept has changed my life. I talk in much more detail about his & use the scholars' sayings & advice in Intentional Mornings.  
---
Q.
As a fellow blogger, you've shared some really great tips with me & many others. What's your top 3 blogging tips for those just starting out?
A.
Have a clear message, have a mission & a vision that relates that others can relate to and join. (For example, our mission is to carry on the legacy

of our Mother. Who was a loving mother, a loyal wife, a devout Muslimah, a giving neighbour, & a savvy businesswoman. She was Khadeejah (radiyallaahu anhaa

).

Promote, promote, promote. It's uncomfortable & I don't think it ever gets easy but you have to promote your work, your art otherwise no will know about the great work you do.

My 3rd tip is to always give, be generous with your time, your advice, your art. give, give, & give some more & Inshaa Allaah you will receive more than you ever gave.
---
Q.
Are there any projects you are currently working on that we can look forward to?
A.
One thing I am working on right now is the second edition of Ramadan Reflections – The 10 minute journal for daily reflections. Many sisters have given back some amazing feedback so we are making the changes inshaa Allah.
---
Q.
Now, as you know getting & staying organised is very important for me, do you have any tips on how you stay organised as a homemaker & homeschooler?
A.
Have a cleaning schedule

Have a meal plan
These two things save me a lot of time, with a cleaning schedule I know what to clean on which days & with a meal plan, there is one day in the week I cook different meals & this saves me time because some days food is ready & I just have to reheat.
---
Q.
And lastly, what does "create a lifestyle you love" mean to you?
A.
Creating a lifestyle I love means being content, there is a saying there are two ways to be rich. One is by acquiring much & the other is by desiring little.
---

Samira A. is the Founder of The Muslimah Guide – the online resource for simple & abundant living, author of Ramadan Reflections – The 10 minute Journal for Daily Reflections & Intentional Mornings – Create and Keep a Spiritual and Productive Morning Routine. 
Connect with her here:
---